Rikuo nura (indonesia)


Vital statistics
romanji name
nura rikuo
kanji name
奴良 リクオ
english name
no information
race
human (day)

yokai (night)

birth date
September 23, 1997
age
no information
gender
laki
height
148 cm (manusia)

175 cm (yōkai)

weight
48 kg (manusia)

66 kg (yōkai)

eyes
coklat (manusia)

red (yokai)

hair
coklat (manusia)

hitam putih (yokai)

status
affiliation
patroli paranormal kyojuji
occupation
no information
relatives
Nurarihyon (kakek)

Yōhime (nenek)
Wakana Nura (ibu)
Rihan Nura (ayah)

first appearance
manga debut
Act 1
anime debut
Episode 1
voices
Seiyū
Jun fukuyama

Eri kitamura (muda)

Rikuo Nura adalah 1/3 dan darah manusia 1/4 yokai. Dia tinggal di sebuah kompleks besar penuh yokai dalam Clan Nura dengan ibunya Wakana nura dan kakeknya adalah nurarihyon dan ayahnya adalah Rihan nura Ia berubah menjadi bentuk manusia pada siang hari mulai dari pagi, tapi kemudian ternyata rela menjadi yokai di malam hari..
Penampilan
Edit
wujud manusia
Edit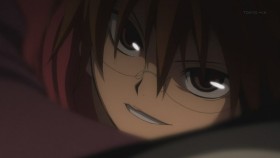 Ketika dalam bentuk manusia warna mata dan rambut berwarna coklat, dan ia tidak memiliki tanda-tanda di bawah matanya. Dia juga memakai kacamata, tetapi tampaknya tidak ned mereka karena ia masih bisa melihat lebih jauh dari kacamata bisa membantunya berkat darah setan-nya. Dia memiliki sekolah reguler dan hang out di sebuah klub Penelitian yōkai & Investigasi dengan teman manusianya. Kepribadiannya adalah jenis lemah menghendaki di sekolah, tapi ketika di antara klan, dia berkemauan keras dan tidak ragu untuk memberikan perintah. Dia biasanya mengenakan pakaian merah dan yukata biru dengan kimono hitam diikat dengan tali putih [?] Serta seragam sekolahnya. Tetangganya adalah kana ienaga dan yura Usami.
wujud yokai
Edit
Ad blocker interference detected!
Wikia is a free-to-use site that makes money from advertising. We have a modified experience for viewers using ad blockers

Wikia is not accessible if you've made further modifications. Remove the custom ad blocker rule(s) and the page will load as expected.