Kana ienaga
Talk

0
71pages on
this wiki
Kana ienaga


Vital statistics
romanji name
kana ienaga
kanji name
家長 可奈
english name
no information
race
human
birth date
June 23, 1997
age
no information
gender
female
height
152 cm
weight
39 kg
eyes
brown
hair
brown-pink
status
affiliation
Kiyojūji Paranormal Patrol
occupation
no information
relatives
rikuo nura

yura usami

first appearance
manga debut
act 1
anime debut
episode 1
voices
Seiyū
aya hirano
kana ienaga is an old friend of rikuo nura and his neighbor. she is only an ordinary human that dosen't believe yokai.
friends
rikuo nura
yura keikain
maki saori
torii natsumi
kyotsugu kyojuji
jirou shima
appearence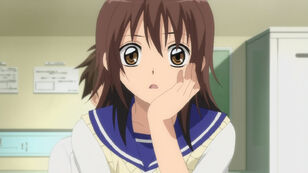 she always appears in human form.
human form
she is only an ordinary girl that dosen't believe to yokai. her personality is shy,afraid of yokai and weak. her hair color is brown-pink (top) and black (bottom) and her eyes is brown. she loves to use pink clothes and fashionery clothes and ofcourse she is often to use her school uniform.she always bring mirror everytime she goes out.
galleries